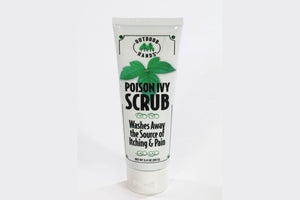 Poison Ivy Scrub - Wash Away the Itch and Pain!

Outdoor Hands® Poison Ivy Scrub has been formulated to exfoliate and wash away Urushiol, the toxic oil in poison ivy and related plants.  One washing per exposed and affected areas is typically sufficient to relieve mild to moderate cases.  Use the poison ivy scrub immediately after outdoor activities to limit potential outbreak.
Directions for Use:

Wet the affected or exposed area with water.
Shake the tube and then Squeeze Outdoor Hands® Poison Ivy Scrub into the palm of hand and wash the affected area for up to 2 minutes.
Rinse well.
Repeat as necessary.
Results:
Outdoor Hands® Poison Ivy Scrub offers instant relief for itching, pain and swelling from the allergic reaction to poison ivy.
Order 2 Outdoor Hands Poison Ivy Scrubs for just $30! Use Coupon Code "2for30" 
Free Shipping on
 

Outdoor Hands® orders over $40.00*