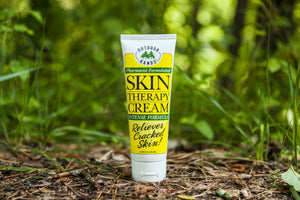 Skin Therapy Cream - Relieves Cracked Skin!
Outdoor Hands
® Skin Therapy Cream was developed by a clinical pharmacist for his family, patients and medical associates when no other creams were effective in treating their cracked, chapped and dry hands. Our cream contains an effective blend of certified organic oils and botanical extracts for superior healing and moisturizing. Because it contains no mineral oils or petrolatum, our skin therapy cream is quickly and fully absorbed by the skin, leaving hands feeling soothed and refreshed with no greasy residue. 
-Treats Cracked, Chapped, and Dry Hands
-Made with Certified Organic Oils and Botanical Extracts
-Superior Healing and Moisturizing
This pack includes a Total of 6 Tubes of Skin Therapy Cream for the price of 5.
Free Shipping on orders over $50.00*
* Free shipping only applies to orders shipping within the United States